Yet Another Jay and Deb Production.
Today's tribute is to something that keeps me sane, happy, and well...non-violent. My family will be eternally grateful for the calming effect these have on me.
If not for these, I would be a bigger witch than I normally am, especially when Aunt Flo is around. If you've been around long enough, you know that's normally 10-14 days if I'm lucky...more than 20 if I'm not. Thank you, thank you, dear Yodel, for being so wonderful and therapeutic.
You may be 9,846,534,765 calories each, forcing me to skip meals for 5 to 6 days just to enjoy you and you might be filled with animal fat creme, making vegetarians around the world cringe, but you're worth it Yodel. Our time together is just magical.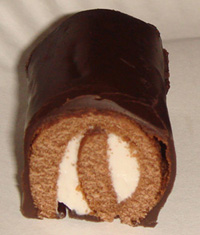 Stick you in the freezer and add a cup of coffee and well...let's just say that if I was a smoker, I'd need a cigarette when all was said and done.